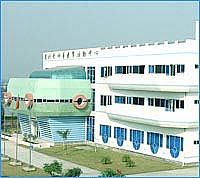 Alert Enterprises (H.K.) Ltd. is in business over 46 years, specialized in the development and manufacture of popular science and technology education and consumer electronic products.
Our education product ranges from Robotics, ROV, mechatronic and science kits etc. We supply to schools, colleges in China , Hong Kong and worldwide. Also we can custom design and manufacture products to your specifications, enquiries are welcomed.
Also, under our administration Telefact Popular Science/ Technology Educational Activity Center , established in 1990, is located in Lun Jiao, District of Shunde, City of Foshan in Guangdong Province . It occupies 26,000 square meters (260,000 square feet) of land with a built-up area of more than 8000 sq. meters (80,000 square feet). The Center consists of a Science and Technology Building , production floors, fields for airplanes, cars and ponds for boats. main office, plastic injection plant and other fun places!